Included here we share a list of more than 4 dozen newly formed women-owned small business joint venture entities added to our list since June of 2022, to include two of the fastest growing small businesses in the Federal sector at VA and HHS/CMS today.  
Joint Ventures are typically put in place with a defined goal in mind, so we are sharing this information hot off the presses.  
Please note that many times a new joint venture will limit what information they provide or share publicly until they are ready to reveal. We know that many of you are close to the action and this information is being made available now, without all the answers, knowing that this may help inform the competitive landscape on upcoming competitions, while also giving you the opportunity to have early partner discussions where it makes sense.  
Three JVs that stood out to our analysts and that were only raised on our radar in the past month include: 
Armvia – The perspective that this global management consulting firm can offer, combined with this small business JV member's track record as one of the most successful small business consulting firms (period) in the Federal sector over the past two years, ensures that this certified Woman-Owned Small Business joint venture between Aptive Resources and McKinsey & Company, will be one of the most watched in 2023, at Veterans Affairs and across the broader Federal marketplace. 
Formed this past May and only activated on December 1, we should mention that, while this new entity does not highlight the status on their site as of yet, this JV, that includes two award-winning companies who share an agile, mission-focused, results-driven approach in the federal sector, is also identified in SAM as a service-disabled veteran-owned small businesses. #onetowatch 
ID8Spark – This economically-disadvantaged women-owned small business joint venture with a stated focus on providing "tailored, streamlined, and forward-facing digital health services across Data Science, Responsive Testing Operations and Integrated Delivery Pipelines" brings together Ellicott City based USA InfoTech, a small Health IT specialist that can lay claim to a long list of past performance in support of several key programs at the Centers for Medicare & Medicaid Services, with CMS heavyweight Sparksoft. This comes on the heels of the two finalizing a formal SBA mentor protégé arrangement this past Summer, one of two known arrangements Sparksoft has struck in the last two years.  
1DTS "successfully integrates the talent of two firms that specialize in Digital Transformation, bringing cloud-native applications, solutions, and analytics to government organizations – Guidehouse and TechSur. Leveraging their combined decades of experience providing innovative solutions across the federal government to include the U.S. Department of Homeland Security, this pairing was formally announced in June and brings to the table its status as an 8(a) and EDWOSB and experience that can take organizations to the next levels of maturity through focused and impactful digital transformation strategies improving the mission of their customers. 
In addition, included below is detailed list of more than 4 dozen newly formed JV entities that our team highlighted as being noteworthy and that were either started or were registered and activated in SAM since June of 2022.   (click to enlarge the chart)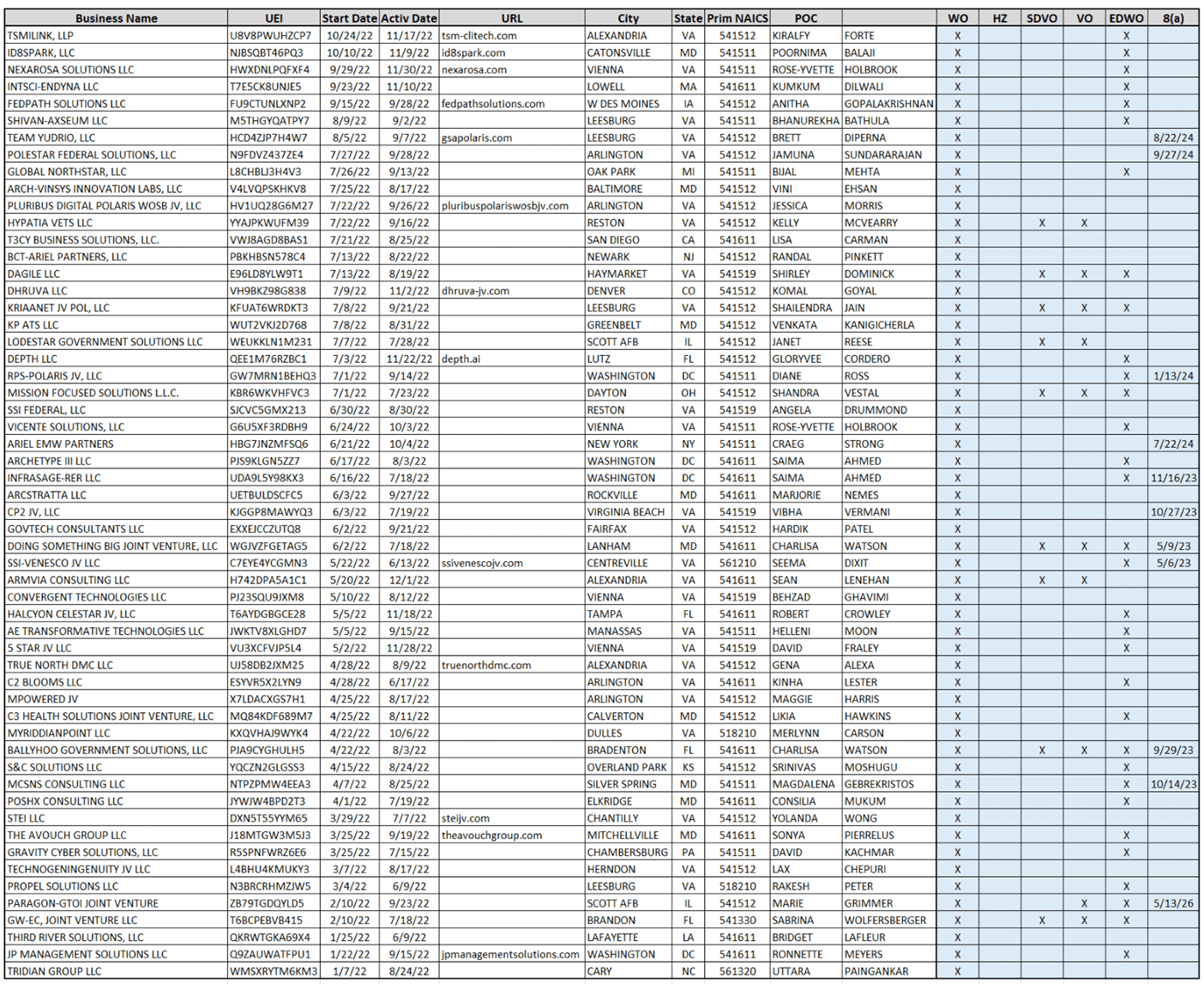 Did we get it wrong? Did we miss your company, and you would like to be added? Contact us below. We aim to get it right 100% of the time.  
Other Recently Posted OS AI Research and Analysis 
About OrangeSlices AI   
Developed by a team of government and industry contracting subject matter experts, the OrangeSlices AI data driven platform is a publicly available searchable listing of the top information technology and consulting services contractors doing business with the Federal government today. Driven by a robust and comprehensive set of authoritative and trusted data sources, the OS.ai tool is intended to help government and industry leaders find the right partner to help deliver on the important missions of the Federal government. Learn more about how you can engage with OS AI here.    
We are sorry that this post was not useful for you!
Let us improve this post!
Tell us how we can improve this post?