Things are heating up in DC as Spring gets underway. The Oranges Slices AI team has received two separate requests over the past week from businesses and product vendors looking for some potential partner options to consider as teams form to support this recently posted Department of Justice Bureau of Justice Statistics (BJS) Statistical Data Management and Publishing support RFI.
Released concurrently on both eBuy and SAM, the draft PWS (click here to see it) details this agency's modernization goals that range from transition of data tools to use modern technologies and increase access to data and BJS website support; to optimization of the BJS data lifecycle, and improving data quality and shortening the timelines for producing data and products
Let's get to it already – who should I partner with on this effort?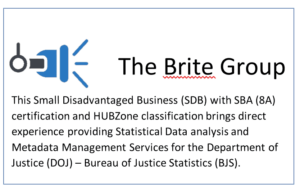 The Orange Slices BOT leverages AI and ML tools to evaluate and recommend the top dozen or so Partner options to consider reaching out to, as a Prime or sub, for this contract. Included below is a list of companies that are certain to draw attention based on their success winning and delivering on similar efforts, and their past experience and sets of relationships at the Department of Justice and BJS, to include known incumbents.
Did OS.aiBOT miss you? If so, comment below or contact us here to be added. Do you have an opportunity you would like us to run our algorithm against? Think our algorithm stinks? Let us know – we only get better with feedback and practice.
Looking for more partners? You can also check out a more detailed, and filterable, list of the top firms supporting the Department of Justice today for the 541611 Management Consulting NAICS code by clicking here.
About OrangeSlices.ai
Developed by a team of government and industry contracting subject matter experts, the OrangeSlices.ai data and artificial intelligence driven platform is a publicly available searchable listing of the top information technology and consulting services contractors doing business with the Federal government today. Driven by a robust and comprehensive set of authoritative and trusted data sources, the OS.ai tool is intended to help government and industry leaders find the right partner to help deliver on the important missions of the Federal government.
15PBJS22N00000001
We are sorry that this post was not useful for you!
Let us improve this post!
Tell us how we can improve this post?