We recently spoke with Index Analytics' CEO, Raghu Akkapeddi and Allyn Finegold, Senior Program Manager and Director of Philanthropy, to learn more about its people-first and three-pillared focus which has driven success, the courageous act of deciding to take a leap, and the challenge for all.
Three Pillars to Success
From the beginning, Index Analytics was built on an understanding that there are three key pillars to any successful business: employees; customers; and the company. "It is a delicate balance but if you can take care of your employees, together you and they will take care of the customers, and ultimately that will support the interests of the company."
While many companies simply focus on attracting more customers and on the operational side of the business, Index understands that gaining and satisfying customers goes beyond winning a contract. It also requires people who can deliver on the work—and take care of those on the receiving end.
People First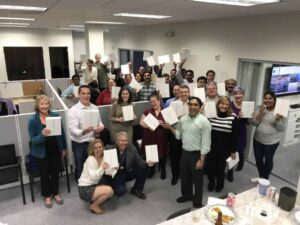 Growing the Index team, finding the right people to support its customers, took time and attention to culture. "Winning contracts required staffing and because we had selected the right people for the team, the right people to take care of our customers, we won more and continued to grow. To this day, we always consider the combination of factors that will attract and help us keep good people."
Pre-COVID connections for the team were supported easily through simple gestures like a ping pong table in the office that allowed for friendly competition, some exercise, and an excuse to take breaks during a busy day. During COVID, those interpersonal connections changed but remained a focus. "We recently came together for a Fall family festival and it was amazing being back in person again. During COVID, on Zoom calls we would encourage people to have their kids join to say hello. It made it all real, even at what was an extremely challenging time for families."
Many Layers
Companies are formed through layers of experience, expertise, and personal vision. True success comes when we can tap into those many layers, and hear the many voices throughout the company. "We understand there is a lot of perspective beyond what any one person, or any small group, may bring to the table. We can learn a lot through amplifying voices that may be unheard."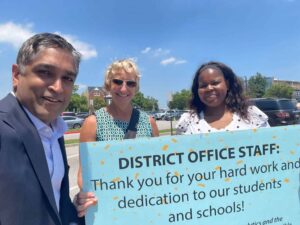 Just as companies are made of many layers, so too are the communities within which their employees live and work.  "We have a strong relationship with Baltimore County schools. Driving past them regularly as we come to work or visit clients, we see these schools and we regularly ask: what we can do to help?"
So far that has included cash donations, as well as more in-kind support including organizing donations of supplies to teachers, and mentoring and assisting students with resume preparation and mentoring.Participating in workforce development within the community, in this way, means Indexers, as they are called, are ushering in the next generation of compassionate, competent employees.
Driven from Within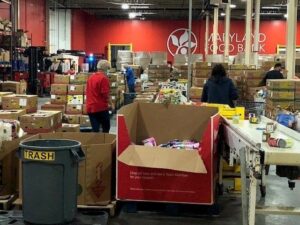 Through a regular and ongoing philanthropy chat, Indexers come together to discuss efforts they are aware of or want to be involved with. Beyond the opportunity to get involved and give back, the team says they appreciate the opportunity to serve together with people they may not work with everyday, to meet and engage with new people from across the company. This is a driver for the existing team, and something that attracts people seeking career changes or new careers.
"It is not unusual for us to interview someone for a role and to find they are aware of our engagement within the community. Especially for young people seeking careers, there is an interest in finding a company that has a good culture, that is focused on giving back in one way or another."
Partnerships
Beyond engagement with internal teams or potential new hires, Index sees the greater community becoming more focused on the concept of partners who 'do things right.'
"When you are evaluating potential partners and there is one that has a strong and clear culture, that is engaged in the same kinds of giving back that you are, why would you not choose that partner?"
Discussions of friendly competition around giving, around collaborative scholarships or community-based efforts are often the norm when the Index team sits down for a meeting with a potential, current, or past partner.
Taking the Leap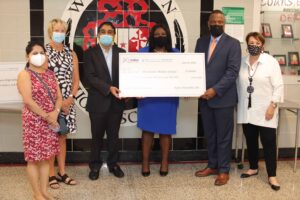 A paradox shared with Raghu by his father describes the notion that many understand the value in doing the right thing but fall short. "Many want to do the right thing, many talk about wanting to do the right thing—but few will take the leap and make a decision to act."
Beyond making the decision to act, Index has also made the act of giving easy. "Many organizations know what they need so we ask. We will ask them how we can move something forward directly to avoid getting caught up in red tape or approval processes."
In that light, at a recent CMS Looking Ahead event with a fundraiser for Thread, Inc., Index Analytics matched the funds raised, adding a $12K to help the organization accomplish the goals and objectives set forth for 2023.
The Challenge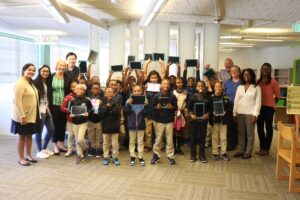 The hope for the Index team is that as more companies become aware of the value in giving back, they will also understand it as a platform for engaging families and touching people in need in many areas. "We would love to see every business leader, as they drive past schools or community organizations in their communities or areas where they work, that they will stop to wonder if there is something they can do to help. That they will not just think about doing the right thing—but take the leap."
About Index Analytics
Index Analytics is an 8(a) certified small business specializing in data modernization, data visualization, cloud modernization, and Salesforce CRM implementation. Founded in 2012, Index delivers award-winning Information Technology (IT) solutions for Federal agencies, improving our clients' return on investment with high-quality enterprise services. We are proud to have successfully supported multiple enterprise-wide, IT-related deployments spanning domains such as data management and analytics, application development and modernization, cloud migration and optimization, case management and digitization, and technical assistance and outreach.
We are sorry that this post was not useful for you!
Let us improve this post!
Tell us how we can improve this post?