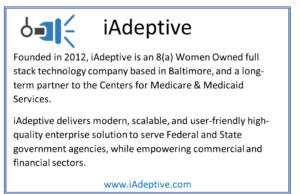 The Orange Slices AI team has received several requests from large and mid-tier businesses and product vendors over the past 6 weeks looking for some potential small business partner options to help bid and win this Centers for Medicare & Medicaid Services (CMS) requirement to support the National Data Warehouse (NDW). The NDW provides CMS and its partners with secure access to a large centralized collection of accurate, valid, and reliable data from all customer contact channels, delivering needed strategic, tactical, analytical, operational, and transactional business intelligence driving fact-based decisions and continuous process improvements at the CCO.
While Leidos is a known incumbent on this effort (see details here for this contract awarded in 2016), the purpose of a Sources Sought notice posted in early 2022 – (a link can be found here) was to obtain information regarding the availability of "small business sources who either have or have the capability of obtaining a CMMI Level III certification or greater by the time of award (anticipated February 2023)" and "their size classification relative to the North American Industry Classification System (NAICS) code 541512 – Computer Systems Design Services." Organizations that were "not considered a small business under the applicable NAICS code" were asked to not respond.
Over the past five years, CMS has shown that they are not shy about competing large and complex programs, many of which were previously completed as unrestricted, as small business set-aside actions. Part of the reason that agency acquisition leaders are in a position to do this is the investment CMS has made in developing and growing a large stable of small businesses who have mature processes (e.g. CMMI Level III), and that have proven time and again that they can deliver. Of course, having Anita Allen, a senior small business specialist/advocate, in place to help push for increased small business usage is another key reason for this increase.
Who should I partner with on this effort?
The requirements identified as part of the Sources Sought Notice are extensive and varied, but in case CMS goes the small business set-aside route, included below is a list of small businesses that are certain to draw attention based on their success winning and delivering on similar efforts, their past experience and sets of relationships at CMS, and their size status in the given NAICS. This list was generated using the Orange Slices BOT, a tool which leverages AI and ML tools to evaluate and recommend the top dozen or so Partner options to consider reaching out to, as a Prime or sub.
Did OS.aiBOT miss you? If so, comment below or contact us here to be added. Do you have an opportunity you would like us to run our algorithm against? Think our algorithm stinks? Let us know – we only get better with feedback and practice.
Looking for more partner options? You can also check out a more detailed, and filterable, list of the top small firms (under $30M) supporting CMS today for the NAICS code 541512 Computer Systems Design Services by clicking here.
About OrangeSlices.ai
Developed by a team of government and industry contracting subject matter experts, the OrangeSlices.ai data and artificial intelligence driven platform is a publicly available searchable listing of the top information technology and consulting services contractors doing business with the Federal government today. Driven by a robust and comprehensive set of authoritative and trusted data sources, the OS.ai tool is intended to help government and industry leaders find the right partner to help deliver on the important missions of the Federal government.
230187
We are sorry that this post was not useful for you!
Let us improve this post!
Tell us how we can improve this post?