Now State Dept! Now HHS! Now DHS and VA! On SBA! On DOJ! On DOT and DOD! To the top of the porch! To the top of the wall! Now dash away! Dash away! Dash away [any hopes of time off] for all!
From DHS USCIS EPIC and CBP ESB, to DOD Cyber Engineering, DOT Software Development, and the very high profile $8B U.S. Department of State Evolve IDIQ RFP, a much busier than normal end of calendar year surge in solicitations across the Federal sector, that carry an early 2023 due date, all but ensure that any planned holiday downtime for industry executives that support growth will be impacted in a significant way.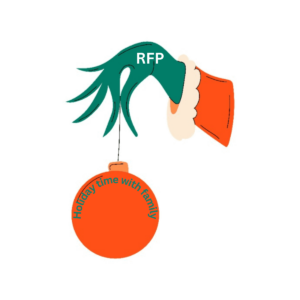 We would never claim that any contracting official's heart is a few sizes too small – that is just not the case. Government and industry leaders alike are all human, all are working hard to do their jobs in the best way possible, and few will feel too bad for the poor small business CXO, capture executive, or proposal manager that will miss time with their family to pursue one or more multi-million-dollar contracts. This is a known part of the role and the game they signed up for, and the potential for some big gifts and payoff down the road is clearly there for those firms and leaders who step up.
The answer to questions about how a holiday release will positively or negatively impact competition and any downstream and long-term results for the stakeholders is best left to the acquisition leaders who are responsible for delivering results for their customers, and for the agency program officials charged with supporting the important missions of their respective agencies, to include the many constituents they serve.
All we at OrangeSlices can say is that we hope all of our industry and government colleagues get their fair share of pudding and roast beast this holiday season, while squeezing in as much time as possible with family and friends. Christmas and the New Year will come, regardless of what else goes on in boardrooms or offices, whatever work must be done on laptops or in cars, whatever deadlines may loom or revisions need to be made. Enjoy what you can, as much as you can.
Happy Holidays to all!
Let us know what you will be working on this season by commenting below.
We are sorry that this post was not useful for you!
Let us improve this post!
Tell us how we can improve this post?