The Department of Homeland Security's Cybersecurity and Infrastructure Security Agency (CISA) recently released an RFI on GSA eBuy seeking companies which can provide the mission-critical Cyber Security Division (CSD) and its Capacity Building (CB) Subdivision leadership with a range of cybersecurity vision and strategic planning services and solutions.
The scope of this effort is expected to include, but is not limited to, capability-based assessments, organizational structure analysis, legal authorities study and expansion recommendations, service delivery model assessments, strategic roadmap development and functional requirements and standards traceability analysis. Ad hoc projects are expected to arise as part of this effort, so finding a company who can also quickly ramp up to provide requisite technical and IT/Management subject matter expertise and experience is key. Contact us here if you would like a copy of the market research documents.
Who should I partner with on this effort?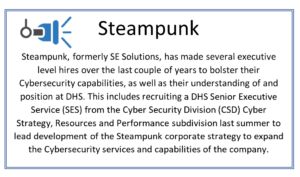 Included below is a mix of both small and large (and mid-tier) businesses that are certain to draw attention based on their success winning and delivering on similar efforts, as well as their past experience, recent hiring trends and sets of relationships at CISA, CSD and the CB subdivision. This list was generated using the Orange Slices BOT, a tool which leverages AI and ML tools to evaluate and recommend the top dozen or so Partner options to consider reaching out to, as a Prime or sub.
Did OS.aiBOT miss you? If so, comment below or contact us here to be added. Do you have an opportunity you would like us to run our algorithm against? Think our algorithm stinks? Let us know – we only get better with feedback and practice.
Looking for more partner options? You can also check out a more detailed, and a filterable, list of the top firms supporting DHS CISA today by clicking here.
About OrangeSlices.ai
Developed by a team of government and industry contracting subject matter experts, the OrangeSlices.ai data and artificial intelligence driven platform is a publicly available searchable listing of the top information technology and consulting services contractors doing business with the Federal government today. Driven by a robust and comprehensive set of authoritative and trusted data sources, the OS.ai tool is intended to help government and industry leaders find the right partner to help deliver on the important missions of the Federal government.
RFQ1547155
We are sorry that this post was not useful for you!
Let us improve this post!
Tell us how we can improve this post?