Federal Civilian Health IT and Consulting
Whether it is a company evaluating them as a potential partner or competitor; a federal acquisition leader doing their due diligence; or a consultant weighing their next job move, included below are more than 80 government contracting companies which stood out as the most viewed Federal Civilian Health partner profiles on our partner platform over the last 90 days.   (Click to enlarge image.)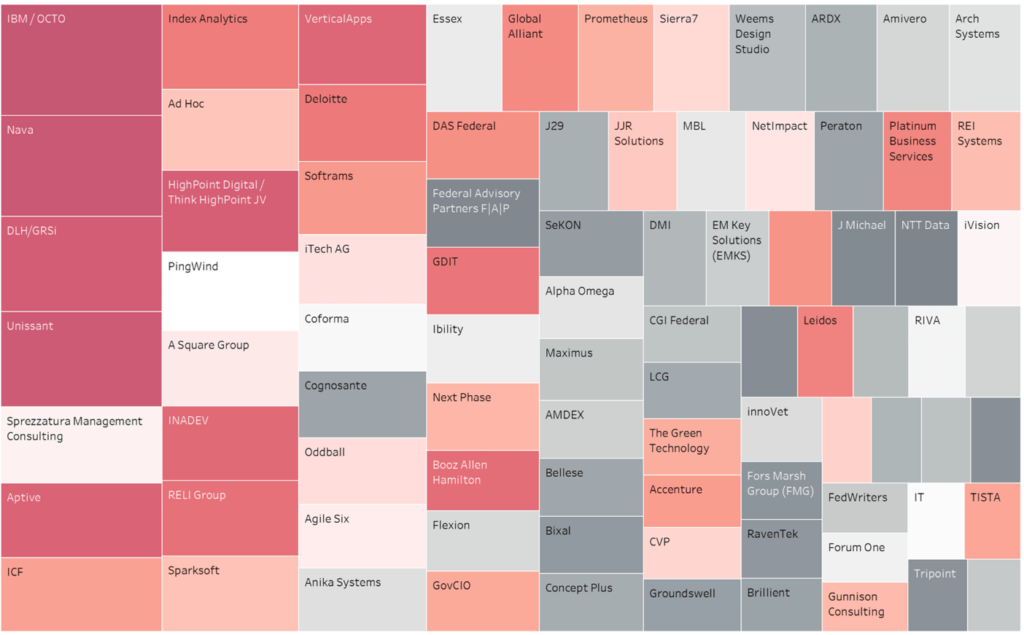 ** An Elev8 GovCon Honoree, noted for a corporate culture that demonstrates excellence, making the company a beacon for talent, for partners, and for clients.  
We cannot and will not speculate here as to the reasons for the increased interest, but whether it is recent strategic hires, key acquisitions, or new strategic partnerships and relationships they have fostered, this group has been exceptionally busy during 2023, laying the groundwork necessary to win in this dynamic and competitive marketplace.   
Big investments do not guarantee results, but they do signify intent, and this group is one to watch as we head into 2023.   
"Fresh Squeezed Daily" - Recent Opportunity Research
"Fresh Squeezed Daily" - Recent Insights
Key Influencers/Former Federal Leaders
Kurt DelBene, Assistant Secretary for Information and Technology and CIO, VA 
Nathan Tierney, Deputy CIO and Chief People Officer, VA
Charles Worthington, CTO, VA
Lynette Sherrill, Deputy Assistant Secretary of Information Security & CISO, VA
Faith Roy, Deputy CISO/Executive Director Cybersecurity Integration Logistics and Planning, VA
Kshemendra Paul, CDO, VA
Lisa (Schreiber) Rosenmerkel, Deputy CDO &Deputy Executive Director for Data Governance & Analytics, VA
Neil Evans, MD, Senior Advisor to the Assistant Secretary for Information and Technology and CIO, VA and Chief Officer, Connected Care, VHA
Laura Prietula, Deputy CIO, VA
Karl Mathias, CIO, HHS
Wayne Hall, CIO, OASH
Bianca Costa Davis, CIO, ONC
Dr. George J. Chambers, Innovation & Technology Modernization Executive, HHS
Rajiv Uppal, CIO and Director of the Office of Information Technology, CMS
George Hoffmann, Deputy CIO, Dep. Director Office of Information Technology, CMS
George Linares, Chief Technology Officer, CMS
Robert Wood, CISO, CMS
Allison Oelschlaeger, CDO and Director, Office of Enterprise Data & Analytics, CMS
Suzi Connor, CIO, CDC
Jason Bonander, Deputy CIO, CDC
Alan Sim, CDO, CDC
Vid Desai, CIO, FDA
Jess Berrellez, Executive Officer, Office of Digital Transformation, FDA
Craig Taylor, CISO, FDA
Mohammed Sohail Chaudhry, CTO, FDA
Ram C Iyer, CDO, FDA
 Dennis Papula, Deputy Director/Deputy CIO, NIH
Ivor D'Souza, Acting Director, NIH CIT
Jothi Dugar, Deputy Director & CIO (Acting), NIH CIT
Kevin Davis, Executive Officer, NIH CIT
Xavier Soosai, Director, Office of Information Technology Services Management, NIH CIT
Ramesh Varanasi, Acting CISO, NIH CIT
Jennifer Freese, CIO, NIH
Alexander Rosenthal, CTO, NIH NIAID
Mike Tartakovsky, CIO, NIH NIAID
Paul Suh, CISO, NIH NIAID
Jeff Shilling, CIO and Chief of IT, NIH NCI
Alastair Thomson, CIO, NIH NHLBI
Mannan Dasti, CIO, NIH NIMH
Adriane Burton, CIO, HRSA
Satish Gorrela, CTO, HRSA
Mitchell Thornbrugh, CIO, IHS
Key Contract Vehicles used for IT and Consulting
CIO-SP3  

 

CIO-SP3 SB

 

GSA Alliant 2 

 

GSA OASIS IDIQs

 

GSA 8(a) STARS III GWAC  

 

GSA VETS 2

 

CMS DASH BPA

CMS SPARC

 

CMS MIDS

 

CMS RMADA

 

NIH NCI Information Technology (IT) Services BPA

 

VA T4NG

 

VA IHT

 

VA CEDAR

 

VA VECTOR

 
Organizations to belong to/track if Federal Health is a focus
ACT-IAC  

ATARC 

AFCEA Bethesda  

AFFIRM  

NCMA Woodlawn 

Professional Services Council (PSC)  
Have an organization to add to this list? Contact us here to let us know.